Serious Injuries from Slip-and-Fall Accidents
A staggering 800,000 people are taken to the hospital for head or hip injuries from slip-and-fall accidents. From 2007 to 2016, deaths from this type of accident have increased by 30% in the United States. Deaths tend to be caused by serious traumatic brain injuries, but others also may suffer pelvic fractures and serious soft tissue injuries. Medical expenses for these injuries can cost thousands of dollars. Try contacting a New York Slip-and-Fall Attorney if you experienced your slip-and-fall at a business with no wet floor signs.
Injuries from the Impact
Bone fractures and traumatic brain injuries (TBIs) are the most common type of injuries from slip-and-falls. The hip is particularly at risk for breakage, which can result in walking problems that may require long-term physical therapy to fix. Some people are able to recover within a few months, but older people may experience trouble with this.
TBIs vary in terms of recovery time because there are mild, moderate, and severe TBIs. Minor TBIs tend to heal fairly quickly, but moderate-to-severe TBIs can take several months, years, or may be permanent. Common symptoms are headaches, dizziness, and problems with thinking that can impair concentration, perception of the world, and memory.
Internal Soft Tissue Damage
Soft tissue injuries may not sound serious at first, but torn ligaments and muscles can prevent movement of your arms or legs. This can put someone out of a job for months. Surgery to repair tears can push people without decent insurance into debt.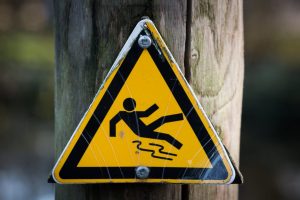 The two main types of soft tissue injuries are sprains and strains. Sprains occur when a joint is forced to move unnaturally and the ligaments attached to the joint stretch or tear. This results in swelling, pain, and an inability to move the joint. Strains happen for the same reasons with similar symptoms, except the damage affects muscles and tendons.
For minor soft tissue injuries, all you need is rest, elevation, and cold compression of the area for a few days or weeks. However, serious soft tissue damage may require prescription medications, imagery tests, and surgery to repair torn tissues. In severe cases of knee damage, a person may require artificial replacement of the knee to regain full movement.
New York Slip-and-Fall Lawyer
Businesses are expected to put out appropriate wet floor signs when their floor is slippery. If you experienced serious injuries from a slip-and-fall accident with no wet floor signs, consider talking to a Cortland Personal Injury Lawyer. You should not have to pay expensive medical bills for surgery, medications, or doctor visits related to your injuries if someone else acted with negligence. Lost wages in addition to pain and suffering are other damages you may be entitled to.
At Gattuso & Ciotoli, we offer four types of legal services. Call us today for legal assistance at (315) 314-8000 for a free consultation. You can find us in Central New York, Syracuse, Watertown, Binghamton, Syracuse, North Syracuse, Camillus, Liverpool, Cortland, and Auburn. We will work with you to earn you the compensation you deserve.