The Most Common Varieties of Construction Accidents
Simply put, construction is an extremely dangerous line of work. Every day, men and women face potentially hazardous situations as they erect buildings, construct homes, repair major roadways, and complete a variety of intricate tasks throughout a typical workday. In this line of work, a slip-and-fall or a chemical spill can take a potentially hazardous or life-threatening turn (in some cases, for more than one person involved).
Here is a closer look at the most common varieties of construction accidents workers can fall victim to.
A Bit of Risky Business
When your workplace is the top of an unfinished office building or the inside of a power plant, the chances are high that you are going to suffer from a few bumps and bruises here and there, but, for many men and women, these situations can take a deadly turn. According to a report from the Bureau of Labor Statistics, officials documented a staggering 79,890 nonfatal accidents and 3,250 median days away from work in 2015.
Here is a readout for the incidence of injuries (nonfatal) stemming from workplace accidents:
Sprains, strains, and tears: 8
Fractures: 8
Cuts and lacerations: 2
Bruises and contusions: 7
Amputations: 7
Most Common Accidents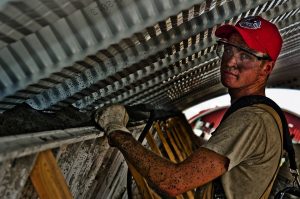 On that light, let's take a look at the most common construction accidents:
Falling: According to a report from the National Floor Safety Institute, slip-and-fall accidents are the leading cause for compensation claims and are a primary cause of workplace injuries for employees who are 55 years and older. Some of the most common falls on construction sites occur when scaffolding or ladders give out.
Being struck by a falling object: In many cases, workers will place spare parts or tools on portions of scaffolding or along platforms, which can result in these objects tumbling onto unsuspecting workers below. Injuries of this nature range from bruises to traumatic brain injuries.
Tripping: This form of slip-and-fall accident is one of the most common among construction workers. Loose wiring, cables, and machine parts can trigger these dangerous incidences, leading to broken legs or spinal injuries.
Poorly maintained equipment: In many cases, equipment that is not properly maintained can backfire and injure workers.
Loud noises and vibrations: Workers at construction sites are exposed to loud noises and severe vibrations. If men and women are not protected with Personal Protective Equipment (PPE), they can suffer from hearing problems, like tinnitus, or nerve/tendon damage.
Seeking a Personal Injury Lawyer in New York
As you go about your daily business, life can take a dangerous turn when you suffer from a severe injury, particularly in your line of work. Maintenance and constructions are essential aspects of businesses around the world, but you must always be prepared for the worst if you work in a hazardous environment. However, if you have fallen victim to an accident that was caused by negligence or wrongdoing, then you may have the right to file a personal injury claim against a culprit.
Although this might be difficult, though, you must remain calm. With the assistance of a lawyer who is experienced with personal injury cases, you can gather viable resources to create a strong case in court.
Here at Gattuso & Ciotoli, our attorneys have more than 50 years of combined legal experience and deliver the some of the most high-quality legal services to victims of a wide variety of accidents in the vicinity of Syracuse, New York. We value your perspective on your case and your goals for the future and ready to help you receive the justice you deserve. For more information on our four practice areas or your legal matter, contact us at (315) 314-8000 today.