Common Negligence Causes of Motorcycle Accidents
As many motorcyclists know, motorcycles do not offer the same amount of protection as cars do. Being hit by a negligent driver while riding a motorcycle on the highway is not likely to end well. Many motorcyclists are prone to experience serious life-threatening personal injuries from these types of brutal impacts. Serious injuries almost always cost significantly more money in the long-run than minor injuries that heal within a few weeks. Be sure to talk to a Central New York Personal Injury Attorney if this happened to you.  
Negligence and Motorcycle Accidents

 
A startling 80 percent of motorcycle accidents lead to severe injuries or death in the motorcyclist. Multiple-vehicle crashes involving a motorcycle and a car are likely to be deadlier. The motorcycle helmet is the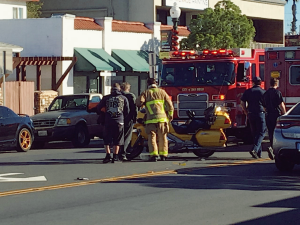 only thing protecting the motorcyclist, but even helmets have been known to fail to prevent serious head injuries. 
A common negligent cause of motorcycle accidents is when a car turns directly into the path a motorcyclist is traveling on. This can throw off the motorcyclist as they attempt last-minute maneuvers to avoid hitting the car. What usually happens is the motorcyclist loses control or crashes directly into the car at high speeds. 
Drunk drivers also tend to hit motorcyclists because their driving skills and reaction times are impaired. Texting while driving and other distractions can prevent a driver from seeing a motorcyclist on the road before it is too late. Tailgating, a common aggressive driving behavior, can also pose a threat to motorcyclists. If the motorcyclist has to suddenly stop, the driver who is tailgating is likely to rear-end the motorcycle.  
Proving Negligence After a Motorcycle Accident

 
Any driving behavior that places others on the road at risk for harm is considered negligent driving. However, to prove negligence as a motorcycle rider, you will need to prove a few other things first. You will need to prove that the other driver acted carelessly, directly caused your injuries and that you yourself suffered injuries from the accident. 
Proving these main elements could mean you are eligible for compensation. Compensation can be used to cover a variety of damages including medical expenses, lost wages, costs of long-term treatments like physical therapy, pain and suffering, and vehicle damages. Seeking guidance from a lawyer can help you avoid common pitfalls in these types of cases. There are certain documents and other pieces of evidence you will need to prove your claim that a lawyer can help you collect. 
Motorcycle Accidents Lawyer in New York 
Motorcycle accidents can be some of the most damaging types of accidents out there. To start the claims process with your insurance company, it is often helpful to consult with a Syracuse Motorcycle Accidents Lawyer to see what evidence you will need to submit. A lawyer can also help you if your claim was denied or if you are in need of further compensation due to severe injuries with high medical expenses. 
At Gattuso & Ciotoli, we offer four areas of legal practice. You can call us at (315) 314-8000 today for a free consultation. Our offices are in Central New York, Syracuse, Watertown, Binghamton, Syracuse, North Syracuse, Camillus, Liverpool, Cortland, and Auburn.