Distracted Driving Is Dangerous Driving
It is almost impossible to find someone who has not been warned about the dangers of distracted driving. For most people, this only means texting and driving (or some other form of using your smartphone while behind the wheel). In actuality, the term "distracted driving" can encompass any sort of activity that takes your full attention off the road. This could even include things like eating, fiddling with the stereo, or having a heated conversation.
Most people underestimate the dangers of driving in general and there is always a possibility that you may get into an accident even if you are doing everything right. Taking your full attention off the road, then, naturally has the potential to turn into something disastrous–especially in the state of New York.
New York Laws
A recent study by the National Highway Traffic Safety Administration (NHTSA) defined driver inattention as any one of the following:
Driver drowsiness
Driver engagement in secondary tasks (e.g., any tasks not necessary to driving)
Driving-related inattention to the forward roadway
Non-specific eye glance away from the forward roadway
Clearly, this problem is even more prevalent than you may have previously imagined. After all, you would be hard-pressed to find a driver who has not engaged in at least one of these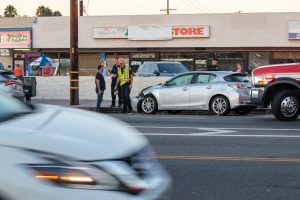 behaviors before. It should come as no surprise, then, that the NHTSA also listed driver inattention as the number one primary contributing factor to vehicular crashes and near crashes. In fact, the NHTSA study even found that looking away for just two or more seconds can and will double the risk of a crash or near crash.
In order to address this issue, the state of New York has started taking very specific measures. For example, the Governor's Traffic Safety Committee (GTSC) has started working with high schools, community organizations, local and state government, and law enforcement agencies to educate citizens on distracted driving and the laws against it.
Seeking Legal Help
Part of the reason why it is so important to keep your eyes on the road at all times is that it is always possible for road conditions to change in an instant. Distracted driving cuts down on a driver's response time and can make them a genuine danger to those around them–especially pedestrians and bicyclists. Suffering personal injury from this sort of accident can be disastrous, leading to missed time off work and exorbitant medical expenses.
If you or a loved one have recently been involved in an automobile accident, you have the right to seek legal help and compensation from a New York personal injury lawyer. Contact the law firm of Gattuso & Ciottoli, PLLC any time day or night at (315) 314-8000 for a free consultation . Our offices are based in Syracuse and we proudly serve the Central New York area, including Syracuse, Watertown, Binghamton, North Syracuse, Camillus, Liverpool, Cortland, and Auburn.