Distracted Driving Remains a Danger to Drivers on the Road
Distracted driving has caused the deaths and injuries of thousands of drivers and passengers. States have put laws in place and initiated campaigns in an attempt to reduce distracted driving, but cellphone use and other forms of distraction remain fairly prevalent today. Cellphones are not the only problem, though; drowsy driving is also considered a distraction, according to the National Highway Traffic Safety Administration. Consider consulting with a New York Automobile Accidents Attorney if you suffered injuries from a car accident caused by someone else.
Prevalence of Distracted Driving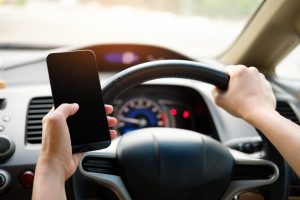 Over a period of five years, from 2012 to 2017, there were 3,030 distracted driving accidents on average each year, leading to approximately 3,285 deaths annually. This consistent pattern of car accidents and deaths made up 9% of all fatal car accidents. Cellphone usage accounted for 420 accidents a year for that five-year period and made up 14% of all distracted driving accidents. Drowsy driving led to 79,000 car accidents a year, with 824 deaths.
For large truck drivers who work as drivers for a living, drowsy driving resulted in 34% of their fatal car and truck accidents. All of these accidents continue to happen despite New York passing a law in 2001 to ban holding a cellphone while driving. Even today, all states have made texting while driving illegal, but many people continue to take the risk.
The most cited reason for continuing to use a cellphone despite driving was suspicion of an emergency.
New Patterns of Distracted Driving
Distracted driving can potentially affect your vision and attention while on the steering wheel. Cellphones can play a big role in this because of the need to use your eyes and hands to text, but so can other forms of distraction.
Eating and drinking have also been shown to distract drivers because of the need to use both hands and eyes. Messing with the radio, trying to find a CD, fixing a GPS, and any form of reading can also pose as distractions. Many people associate cellphone use with texting, but talking on the phone can be almost just as bad.
Talking on the phone quadruples your risk of a car accident. Hands-free cellphone use may be safer and legal, but even this has been associated with 25% of car accidents.
Personal Injury Lawyer in New York
Injuries caused by distracted driving can involve head trauma, whiplash, broken bones, and soft tissue injuries. Many of these injuries can lead to costly medical bills and lost wages, but you may not have to pay for all of these yourself. Talk to your insurance company about what happened to see if you can receive compensation. However, if they refuse or offer you an unfair deal, talk to a Syracuse Personal Injury Attorney.
At Gattuso & Ciotoli we offer clients four areas of legal practice. Contact us today at (315) 314-8000 for a free consultation. You can find out services in Central New York, Syracuse, Watertown, Binghamton, Syracuse, North Syracuse, Camillus, Liverpool, Cortland, and Auburn. We will work with you to collect the evidence and legal documents you need for a successful case.