Steps to Take if You Sustain Injuries in a Bicycle Accident
On these lovely summer days, when rainfall is not expected, some of you will be excited to grab your bicycles and ride across Central Park in NYC or a lovely rural road in upstate New York. During these warm months, hundreds of thousands of New Yorkers are taking advantage of the lovely weather by hitting the bike trails and roads of the Empire State. In fact, the Department of Transportation's Sustainable Street Index confirmed a 262% spike in the number of New York residents who cycled from 2000 to 2010.
So, with the beehive of cars, buses, trucks, taxis, and, of course, bicycles swarming New York City, how are you supposed to stay safe? More importantly, what are you supposed to do if you are injured after your bike collides with another vehicle? Let's take a closer look and find out.
The Rules of the Road for Bicyclists in New York
Despite falling into a similar category as pedestrians (at least for other motorists), bicyclists must still adhere to steadfast principles of the road. As dictated in New York City Traffic Rule Section 4-07-part c-3, bicyclists can only ride along sidewalks marked with a sign which ultimately permits the use of these vehicles; children are the only exception to this rule. The same rule applies to people who park bikes along city sidewalks.
New York has also adopted Rules of the City of New York, which cover protection for bicyclists.
Protection of Bicyclists in New York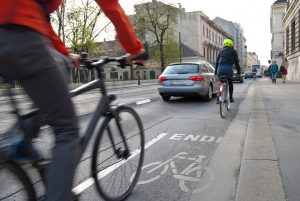 Furthermore, the New York Government has established a Vehicle and Traffic code covering the safety of bicyclists in the state. These rules may be found in Section 1231 of the NYS VTL:
Riders must equip their bicycles with reflectors, a white headlight, and red taillight for use at dawn and dusk.
Bicycle brakes must be 100% functional.
Bicycles must be equipped with a bell or noise-making device.
Children under the age of 14 must wear a helmet when they ride bicycles.
Children from 1 to 5 years of age must ride in a carrier and wear helmets.
Filing a Claim for a Bicycle-Related Injury
If you are riding a bicycle and have been involved in a crash, the following steps must be completed:
Retrieve the name and information from all people involved.
Offer your name and information to people involved in the crash (if you are capable).
Always report this accident (if you are have not sustained injuries that render you incapable).
All accidents must be documented under the Vehicle and Traffic Law.
Personal Injury Lawyer in Syracuse, New York
Riding your bicycle can be immensely convenient and fun during the spring and summer, but safety should always be a top priority for people who are not operating motor vehicles on the roadways of the state. In many cases, distracted and negligent drivers will not provide the right of way to other people, which can ultimately result in moderate-to-catastrophic injuries. In the event that you or a loved one has sustained injuries as a result of a bicycle crash involving a car, you will no doubt feel terrified and concerned about what you should do next.
Although this might be difficult, though, you must remain calm. With the assistance of a lawyer who is experienced with personal injury cases, you can gather viable resources to create a strong case in court.
We at Gattuso & Ciotoli have more than 50 years of combined legal experience and deliver the some of the most high-quality legal services to victims of a wide variety of accidents in the vicinity of Syracuse, New York. We value your perspective on your case and your goals for the future and ready to help you receive the justice you deserve. For more information on our four practice areas or your legal matter, contact us at (315) 314-8000 today.