The Importance of Sleep Breaks for Truck Drivers
Needless to say, a full day of driving a giant semi-truck can be exhausting. Given the fact that trucking is a major component of American business, the men and women who operate these enormous vehicles can definitely start to feel that all-too-familiar buzz of anxiety (for more reasons than one). Besides long-term routes with hardly any time to prepare for turnarounds, truckers are also under a ton of pressure to carry valuable goods for incredibly long distances, sometimes thousands of miles.
So, at this point you may be asking: do these people ever take breaks? Obviously, with all that time and pressure, these hard-working truck drivers would involuntarily put other drivers at risk if they were exhausted.
Let's take a closer look and find out more about the frequency of breaks for truck drivers and the connection between trucker fatigue and semi-truck crashes.
Highly Competitive Workplace for Truck Drivers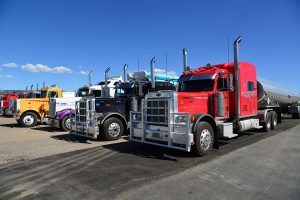 Needless to say, men and women who work as truck drivers will fight tooth and nail to ensure they don't lose their jobs, especially since this particular field of work is highly competitive. According to data from the Bureau of Labor Statistics, truckers, on average, make a substantial $43,680 per year (relating to $21 per hour), and the job itself requires little education. Now, consider the fact that 1,871,700 people worked as truckers in 2016, and you can understand why truckers are so eager to stay in their line of work without any problems.
The Dangers of Fatigue and Truck Accidents
Nevertheless, problems do arise.
As part of its Large Truck Crash Causation Study (LTCCS), the Federal Motor Carrier Safety Association, teaming up with the National Highway Traffic Safety Administration, sought to determine some of the most frequent factors behind semi-truck accidents in the United States. Within this study, researchers inspected nearly 1,000 causes (963) of different truck crashes, both fatal and nonfatal.
Based on the LTCCS report, drivers' unfamiliarity with a new area was the top factor accounting for 3.4% of accidents, and fatigue accounted for 2.6% of crashes in the United States. In essence, this data confirms that on-the-job exhaustion is the second most influential element behind fatal and nonfatal semi-truck accidents in the U.S.
For more information, please review the LTCCS report.
Required Hours of Service (HOS) for Truck Drivers
In accordance with the FMCSA guidelines, trucks that must comply with Hours of Service (HOS) are the semi-trucks and other 18-wheelers you see along highways. Mostly, these vehicles must:
Have a minimum weight of 10,000 pounds.
Carry hazardous content in an amount that requires a warning sign.
As part of rest breaks, truckers can only start driving after the duration of 8 hours following the truck driver's previous sleep period of at least 30 minutes. For more information on break and sleep requirements, please review the FMCSA's Hours of Service Regulations.
Personal Injury Lawyer in New York  
Driving semi-trucks is a tedious business for the men and women whose work stations constitute the highways and state routes of the United States. Due to the frenetic and hectic nature of this line of work, though, many truck drivers can fall victim to fatigue, resulting in tragic truck accidents along major roadways. In the end, these people can sustain moderate to severe injuries and possibly inflict tremendous damage on state property, other vehicles, and other drivers.
Although this might be difficult, though, you must remain calm. With the assistance of a lawyer who is experienced with personal injury cases, you can gather viable resources to create a strong case in court.
Here at Gattuso & Ciotoli, our attorneys have more than 50 years of combined legal experience and deliver the some of the most high-quality legal services to victims of a wide variety of accidents in the vicinity of Syracuse, New York. We value your perspective on your case and your goals for the future and ready to help you receive the justice you deserve. For more information on our four practice areas or your legal matter, contact us at (315) 314-8000 today.