Thousands of Truck Driving Accidents Are Caused by Driver Error
Out of 4,102 people in the year 2017, 17% of truck drivers died and 68% of car drivers and passengers died. The most common causes of truck accidents are vehicle errors like brake malfunctions and human errors like falling asleep at the wheel. Bad weather and unsafe driving behaviors can cause accidents, too, but truck driver error is considered the leading cause. Try talking to a Central New York Truck Accidents Lawyer if you have suffered injuries from a car accident involving a truck.  
Vehicle Errors Due to Neglect
Brake problems are one of the most common types of vehicle errors when it comes to trucks. This, more often than not, results from negligence on the part of the truck driver because many fail to maintain yearly inspections and repairs. Other problems that can arise are oil leaks, poor tire pressure, and flat tires. Several flat tires on a semi-truck can lead to several types of mistakes on the road.
Some vehicle problems can additionally impair a truck driver's perceptions of the road and other cars. Damaged or stained windshields can make checking blind spots or safely turning at tight intersections close to impossible. Broken headlamps or brake lights can disrupt driving for other people on the road, especially at night or during foggy weather when other cars are difficult to see.
Human Errors in Truck Accidents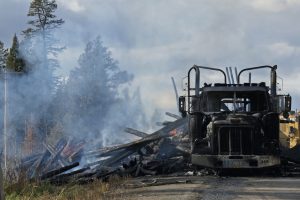 Drug and alcohol violations made up 839 truck drivers in 2017, according to FMCSA. 224 truck drivers broke railroad crossing laws and 159,427 were caught with other types of driving violations. Alcohol alone has been known for decades to significantly impair driving after a certain limit is reached. This is because alcohol slows reaction time, blurs vision, dulls hearing, and leads to poor reflexes. Depending on the drug used, almost all illegal and some prescription drugs can lead to serious mistakes when taken in high amounts.
Some truck drivers drive longer than the time limit of 11 hours. This time limit is enforced by truck driving companies to prevent distracted driving accidents. Falling asleep at the wheel is very common for people with inadequate sleep or for those who have been driving for several hours. Driving at night on top of this can increase a person's chances of losing control of their vehicle.
New York Truck Accident Attorney
Truck accidents that involve other cars have been known to cause a variety of injuries that can impair work performance and lead to expensive medical bills. However, anytime you suspect the other driver was at fault, you should consider finding a Binghamton Personal Injury Lawyer to talk to about the accident. They can help you figure out what evidence there is to find negligence in the other driver.
At Gattuso & Ciotoli, we have over 50 years of experience in defending clients with personal injuries. Our legal services are offered in Central New York, Syracuse, Watertown, Binghamton, Syracuse, North Syracuse, Camillus, Liverpool, Cortland, and Auburn. Call (315) 314-8000 today for a free consultation. We will investigate what happened at the scene of the accident by collecting witness statements, information from police, and medical records.