Who Is Responsible in Bicycle Accidents Involving Cars?
Many of you will probably agree that riding a bicycle, in many ways, is much more convenient than driving a car if you live in the bustling jungle of New York City. However, consider the fact that all that weaving and darting across alleyways, open roads, and intersections can sometimes result in a tragedy when a bicyclist collides with an oncoming car or vice versa.
In many cases, it can be hard to determine who is ultimately at fault in these crashes. Bicyclists are filed under the same rules as motorcyclists and pedestrians, meaning drivers have to watch out for these people. Still, what happens when a driver gets the blame for running into a bicyclist who wasn't adhering to street signs or paying attention? Who is truly at fault?
Ultimately, the answer boils down to whoever wasn't following the rules at the time. Let's take a closer look and find out who is responsible in a bicycle accident involving a car.
Sidewalk Side-Swiping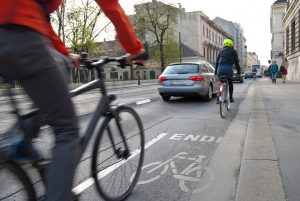 Remember: just because a bicyclist is protected by similar laws for motorcyclists and pedestrians, that doesn't mean they cannot stretch the rules. According to New York City Traffic Rules Section 04-07-part c-3, bicyclists can only ride their bikes along portions of a sidewalk marked with a sign permitting this activity, but, on the flip side, children under the age of 12 have full permission to ride their bicycles along these areas.
The Rules of the Road
Besides sidewalks, the roads are also incredibly dangerous for cyclists. New York City Traffic Rule 4-12 also lays out specific rules for bicyclists:
Bicycle riders must ride in bike lanes provided by the city and can only veer out of these lanes to clear intersections or make turns.
If bicyclists travel on roads that are designated for one-way traffic and are at least 40 feet in width, they can ride a practical distance from the edges of the roadway.
Under part-iii Section 3, bicyclists must also wear the proper safety gear when riding along roadways and must yield to oncoming pedestrians (in the same manner as motorists).
For more information about bicycle crash data in New York City, please review the analysis conducted by the New York Police Department in 2017.
Who Is to Blame?
Once again, consider the fact that any person who was breaking traffic rules is to blame in an accident involving a bicycle and a motor vehicle. For example, if the bicyclist runs a red light and heads into oncoming traffic, that bicyclist will be to blame for the crash. On the other hand, if a motorist fails to provide the right of way to a bicyclist, that driver will be at fault.
For more tips on cycling safely, please review the National Highway Traffic Safety Administration's review on Bicycle Safety.
Personal Injury Lawyer in Syracuse, New York
Riding your bicycle can be immensely convenient and fun during the spring and summer, but safety should always be a top priority for people who are not operating motor vehicles on the roadways of the state. In many cases, distracted and negligent drivers will not provide the right of way to other people, which can ultimately result in moderate to catastrophic injuries. In the event that you or a loved one has sustained injuries as a result of a bicycle crash involving a car, you will no doubt feel terrified and concerned about what you should do next.
Although this might be difficult, though, you must remain calm.  With the assistance of a lawyer who is experienced with personal injury cases, you can gather viable resources to create a strong case in court.
We at Gattuso & Ciotoli have more than 50 years of combined legal experience and deliver the some of the most high-quality legal services to victims of a wide variety of accidents in the vicinity of Syracuse, New York. We value your perspective on your case and your goals for the future and ready to help you receive the justice you deserve. For more information on our four practice areas or your legal matter, contact us at (315) 314-8000 today.